The User management section provides an easier way to manage users like updating user permissions, disabling or enabling users, and prompting password resets.
To access User Management:
Click the Settings menu

and select User Management. You'll be redirected to the User Management page where you have a quick view of their permissions, status, and user details: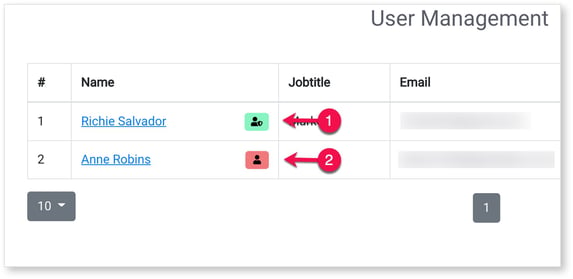 Roles and Status:
Green Icon with Shield . Shows that the user is active

which means the user can log in to Zitcha. Also, the small shield icon means the user is an admin of the organization.

Red Icon . Shows that the user is inactive and can no longer login to Zitcha. This icon doesn't have a small shield icon which means the user is a regular user.
In the example above, Richie Salvador is an active user and currently the admin of the organization. Anne Robins is a regular user with an inactive Zitcha account.
Updating user details, role, or status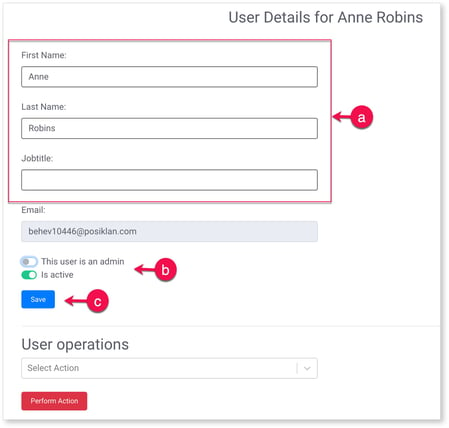 Click the name of the user. This will display the 'User Details' page.

You can update the following details for the user:
a. First name, Last name, and Job title
b. Permissions and status. Toggle the options button to make a user an admin or to enable and disable their status.
3. Click the Save button to apply the changes you've made.

To prompt Password reset:
If a user is having issues with resetting their password, you can also send a reset password link to a user to complete that action by following these steps:
Click the dropdown below User Operations

Select

Reset user's password

3. Click Perform Action button
To remove a user permanently or for additional assistance, please contact our team of friendly Digital
Experts directly through our support email or phone:
Email: [email protected]
Phone: +61 3 7068 9245
Hours: 9am - 5:30pm AEST (UTC +10), Monday to Friday, excluding Victorian and Australian Public Holidays.