As a Retailer, you have the option to create your own advertising spaces on your website using 'Embedded spaces'.
To set up an embedded space, follow these steps:
With a Zitcha admin account, click on the Settings icon on the top right corner of your Dashboard and select Channel Settings.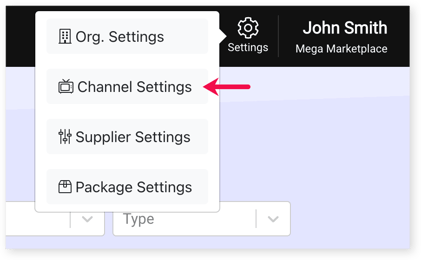 2. Click on
Settings
to access the
Web Ads settings
page.
3. In the
Spaces
tab, click on the
New Space
dropdown then select
Embedded Space
.
4. In the pop-up, select
Banners
as the ad space format and
Web
as the subformat. Click
Create Space.
5. Complete the details for your space then click
Create Space.
Space name - specify the name of your space to easily identify it.
Order currency - the number of ads that can run in this space
Category - select a category where the space belongs to
Monetisation - how you charge Brands in running ads for the space
Suppliers - enable which Brands have access to the space
Templates - set which templates can be used for the space
The created space will be added automatically in the Spaces tab.
Accessing the HTML code of the Embedded space
Once the space is created, a tag will be generated for that space for the Retailer's team to insert o the website.
To access the HTML code for an embedded space, follow these steps:
In the Web Channel Settings, select the Space tab and select the embedded space you'd like to access.
2. On the Edit space page, click the
Get embedded
tag button.
3. The HTML tag will show in the pop-up window. Click the
copy icon
to copy the code.
You can now copy the code and insert the tag anywhere on your website to deliver web banner ads in that space.