As the boundaries between the digital and physical realms blur, retailers have an unprecedented opportunity to captivate audiences at every touchpoint.
At Zitcha, we understand the needs of modern shoppers and the evolving dynamics of the retail industry. Our platform is designed to unlock the potential of omnichannel retail media, offering a seamless and engaging experience for both retailers and brand advertisers.
By harnessing the power of technology and our suite of media inventory, including POS displays, screens, end-aisle displays and more, retailers and brand advertisers can maximise their impact and grab the attention of customers when it counts.
But enough about us, let's dive into some of the many opportunities the digitisation of in-store retail media offers.
Our platform is designed to unlock the potential of omnichannel retail media.
1. Reaching the Unreachables.
In an era dominated by digital platforms, capturing the attention of millennials and Gen Z audiences through traditional linear TV advertising is increasingly challenging.
However, the digitisation of physical stores presents a unique opportunity to reach these elusive demographics.
According to a report by the Path to Purchase Institute, in-store audiences for leading brick-and-mortar merchants are on average 70% larger than their digital audiences.
By leveraging in-store retail media, brands can tap into this vast potential and connect with millennial and Gen Z audiences at the very moment they are ready to make a purchase.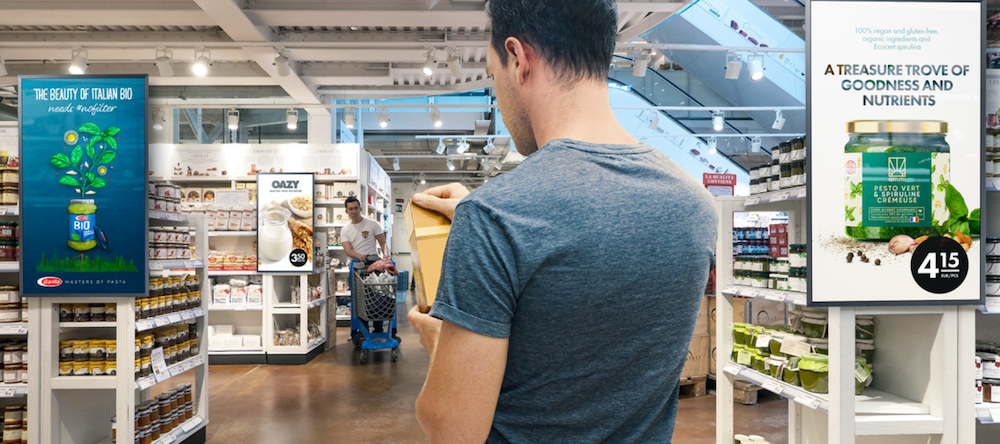 2. Captivating Audiences with Compelling Creatives.
When it comes to in-store retail media, creativity is key.

Shoppers want to be captivated by unique and eye-catching content that introduces them to new brands and products while providing relevant information.

In fact, the report by the Path to Purchase Institute found 21% of shoppers were attracted to ads that introduce them to new products and another 14% to new brands.

Further, the report also found that 43% of shoppers frequently notice brand displays on shelves, while 37% are drawn to video ads on TV screens.

These stats combined show just how crucial these attention-grabbing surfaces are in allowing brands to deliver high-quality branding experiences that resonate with shoppers.

At Zitcha, we understand the importance of creativity and help retailers unleash their imaginative powers to create impactful campaigns that leave a lasting impression.

3. From DOOH to One-To-Many Experiences.
The digitisation of physical stores extends far beyond traditional digital out-of-home (DOOH) and shopper marketing budgets. It opens up the possibility of unlocking national media dollars and redirecting linear TV budgets into a brand-safe environment that offers mass reach.

With Zitcha's platform, retailers can strike a delicate balance between ads and the overall customer experience, ensuring that ads enhance rather than detract from the shopping journey.

Brands should focus on one-to-many ad experiences in-store, avoiding the personalised ad approach. This allows them to avoid the "performance trap" associated with over-optimization, which can lead to discounting and erode both margins and brand equity.
4. A Plethora of Digital Surfaces.
Physical stores are a treasure trove of digital surfaces just waiting to be transformed into engaging media channels. From product displays and end-of-aisle displays to digital screens, checkout aisles and signage, the possibilities are endless.

With Zitcha's global digital screen partners, we offer digital screens for retailers. Leveraging a plug-and-play solution, our digital screens provide unparalleled speed to market and immediate scale. Through unique targeting and data collection, brands are given ultimate control and can track campaign results via detailed reporting capabilities.

By utilising these surfaces, brands can make their mark in the modern retail landscape and capture the attention of shoppers in ways that were previously unimaginable.
5. A Modern Store for the Modern Shopper.
The digitisation of physical stores brings more than just advertising opportunities. It also paves the way for clutter-free and modern shopping environments.

With the integration of digital signage and interactive displays, stores become more streamlined and visually appealing. As brands and retailers embrace this digital transformation, they create a shopping experience that seamlessly blends the physical and digital worlds.

Final Thoughts.
In the era of in-store retail media digitisation, retailers have the opportunity to transform their stores into immersive brand destinations, engage customers on a personal level and optimise their operations through data-driven insights.
By leveraging the power of digital signage, interactive display and targeted messaging, retailers can captivate shoppers, enhance their shopping experiences and ultimately, drive revenue growth.
It's time to embrace this digital revolution and unlock the full potential of in-store retail media. Get in touch to learn more now.